* * *
July 3, 2013 we lost Jacqui Morgan (a/k/a Jaquelynnn Morganstern) – dear sister, significant cousin, beloved friend, esteemed colleague, valued associate, inspirational educator, iconic illustrator, acclaimed visual artist, renowned watercolor painter, noted author, and damn nice, elegant, beautiful lady.
* * *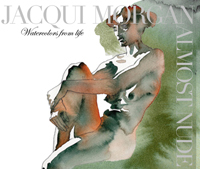 Jacqui Morgan's latest book — Almost Nude: Watercolors from Life — contains a selection of figures painted at the New York Society of Illustrators, the Spring Studio in Soho, as well as private sessions with friends and demonstrations for her watercolor classes. Some figures are nude, some are costumed but all were painted directly from life. To purchase a copy of this newest book, click to http://www.blurb.com/ bookstore/ detail/2307858.
Welcome to a world of magic.





Previous book by Jacqui Morgan Mostly Nude: Watercolors from Life can be purchased at http://www.blurb.com/b/1819031-mostly-nude.





And Jacqui Morgan's Journey is a retrospective monograph of works by this high-profile illustrator. Included in the Journey book are award-winning posters, editorial illustrations, advertisements, billboards, books, gallery exhibits, fine art, product designs, magazine covers, and television commercials. It can be purchased from www.lulu.com.





Her forever-popular and still-definitive 1986 Watercolor for Illustration book is out of print but copies may be found in libraries or by searching the Internet.
* * *
To view Jacqui Morgan's NOW ("nudes of watercolor") life studies currently posted at Barebrush click to her Featured Artist page at http://barebrush.com/ featured.php? artist_id=69. These paintings are for sale.